Summer Events & Festivals
Check out these top 15 summer events and festivals which are the perfect reason to book your summer road trip vacation now! Keep in mind that summer lodging properties book up early in the summer. Come for the summer events and stay for the lakes, trails, craft beer, and relaxation. Find overnight lodging HERE.
Judy Garland's 100th Birthday Celebration- Grand Rapids, MN (June 9-12)
The Judy Garland Museum is hosting a 100th Birthday celebration for Judy Garland on June 9-12, 2022. Tickets are still available for a few of the festivities: Friday, June 10, 2022, for a lovely Birthday Party Dinner that includes a live performance from "Jennifer Grimm Sings Judy Garland" at the Timberlake Lodge. On Saturday, June 11th get your running shoes ready for the Dash for the Ruby Slippers 5k Run/Walk (pre-registration required); Wizard of OZ dress up is encouraged. Klockow Beer, food trucks, live music and a showing of the Wizard of Oz will be playing on the outdoor jumbo screen. Check out www.judygarlandmusuem.com for a full list of events.
Wilderness Days – Bigfork, Minnesota (June 10-12)
The community of Bigfork is bringing back their annual festival: Wilderness Days. At this event you will find many food vendors, local business events, live music, a street dance, local vendors, raffles, as much more! New this year is a 9-hole golf scramble. This small town located up the Edge of the Wilderness Scenic Byway comes alive for this two-day festival. Learn more HERE.
Paddle & Pint – Mississippi River (June 18)
Come join the Itasca County Historical Society on the mighty Mississippi River for the first annual (Paddle and Pint) event. The flow of the Mississippi River in this stretch is exquisite in its nature and uniqueness for the amateur or professional paddlers! Rent or bring your own kayak, canoe, paddle board, or water craft that is propelled by a paddle to this fun family endeavor. Beginning at the Pokegama Lake Dam, groups of paddlers will travel down the Mississippi to enjoy friends, fun and the flow of the river.  After stopping at several locations along the way to receive a historic medallions, they will arrive at the Forest History Center to receive their pint of Beer or Root Beer! Get registered for this event HERE.
Fourth of July Festivities – Nashwauk, Hill City & Pokegama Golf Course (July 1-4)
This year with the Fourth of July falling on a Monday, several of the greater Grand Rapids, MN communities that typically put on annual 4th of July festivals will be doing some activities and events starting on Friday and then also showcasing through the weekend with fireworks on Monday, July 4th. Learn more by viewing our Events Calendar. 
World's Largest Wild Rice Festival – Deer River, Minnesota (July 8-10)
The World's Largest Wild Rice Festival in Deer River, MN is a long standing community get together sponsored by the Deer River Lions Club. A full weekend of food, family and fun. This year the Leech Lake Band of Ojibwe Gaming (White Oak Casino) is sponsoring Deana Carter as the free music concert on Sunday, July 10th. Find all of the details HERE. 
Downtown Art Fair -Old Central School Grounds (July 9)
MacRostie Art Center's annual summer art fair is a community celebration of the arts. Taking place on the grounds of Old Central School in the heart of downtown Grand Rapids, this is a popular event with area residents and visitors alike.  Admission to the event is free, and art fair attendees can visit the booths of over twenty-five regional artist vendors displaying and selling artwork including painting, glass, woodworking, pottery, jewelry, photography, and more.  The event also includes food trucks, live music, lawn games, and hands-on art activities for kids and families. More details about the Downtown Art Fair can be found at macrostieartcenter.org/artfair.
Deer River BBQ & Brew Fest – Deer River (July 15-16)
The 2022 "Deer River BBQ & Brew Fest" is an outdoor Summer celebration of home brewed beer samples and some of the northlands best BBQ samples (while they last). The fun starts Friday July 15th at 5 PM with a Chicken Wing Contest at the OutPost Bar & Grill and then get ready for the big celebration, Saturday July 16th at 3 PM and continues till 8 PM. Adessa & the Beat will provide great live music during the event. Get ready for a great Bean Bag tournament as well. The Brewers and the Smokers will be competing for prizes and bragging rights!  There will be a few mixed cocktails available along with your favorite beer, provided by the Outpost Bar. Learn more HERE.
KAXE Community Radio – Rotary Tent & Downtown Grand Rapids (June 16th & 19th, July 14th, August 13th & Sept 11th)
KAXE Community Radio hosts several live music events under the Big Tent (KAXE and Rotary Tent) located on the banks of the Mississippi River located in Downtown Grand Rapids each summer. This is the perfect opportunity to enjoy Minnesota's nature and live music together. Bring a chair or a blanket and enjoy! Thursday, June 16th @ 7pm – It's Music on the River with Samantha Crain and David Huckfelt; winner of two NAMMY's (Native American Music Awards) for Folk Album of the Year and Songwriter of the Year. She also won the Indigenous Music Award for Best Rock Album in 2019. Saturday, June 19th 11am-2pm – Juneteenth commemorates the end of slavery in the United States; this year KAXE will be celebrating by partnering with Kootasca Community Action and VEMA to present a Juneteenth Celebration at the KAXE Rotary Tent on the Mississippi River. The celebration will include food from Big O's Chef House, live music, kite flying and fun for the whole family. Thursday, July 14th @ 7pm – Music on the River continues with two classic country bands that will get you up movin' and groovin'. Erik Koskinen has been a KAXE and crowd favorite for several years, as one of the premier songwriters in Minnesota who is influenced by all music: country, folk, bluegrass, jazz, even polka. Paired with a first class band, Koskinen and his songs speak directly to the experience of the everyday person, and always brings the energy to the crowd, guaranteed you can't sit still. Streitz is another authentic musician to the core with her classic country roots, tied in to roots rock and folk music. It will be Streitz's first show in Grand Rapids! Saturday, August 13th @ 7pm – It's the annual Green Cheese Picnic! KAXE takes their weekly trivia show on Saturday nights and brings it to the outdoors under the Rotary Tent along the Mississippi River. It's the one time a year trivia fans can bring in their own questions, flipping the tables and try to stump our Green Cheese hosts! Free and open to all, Cheesers or not! Saturday, September 10th 2-10pm – KAXE is proud to be hosting the 2nd Grand Rapids Riverfest with the City of Grand Rapids! The line-up features Grand Rapids own Wild Horses, Chastity Brown, Shovels & Rope, and WILCO! The festival will take place downtown along the Mississippi River with the GR Area Library and River serving as a backdrop. Featuring local food and beer vendors, this is going to be the event of the season for the area. Tickets are on sale now at www.grandrapidsriverfest.com.
Northern Minnesota Swap Meet & Car Show & Weekend of Wheels – Grand Rapids (July 29-31)
The annual Northern Minnesota Swap Meet & Car Show hosted by the Grand Rapids Area Chamber of Commerce will be taking place at the Itasca County Fairgrounds on July 29-31, 2022. At the Swap Meet you can expect around 250 swap vendors, 14 food vendors with lots to pick from. There will be a vintage Car Show is on Sunday at the Fairgrounds. The Northern Cruisers Car Club will be hosting their annual Weekend of Wheels Car Show on Saturday, July 20th. There will be free shuttle service offered on July 30th between the two events. Learn more on our Events Calendar. 
Tall Timber Days –Downtown Grand Rapids (August 5-7)
Make plans to attend the largest timber festival in the northland. This small town event has been going on for 41 years! Enjoy live music, street dance, lumberjack shows, chainsaw carvings, food trucks, craft vendors, pet parade, carnival style games, and a parade on Sunday, August 7th all taking place in historic downtown Grand Rapids. Learn more HERE. 
Blackberry Threshing Show – Blackberry Farm (August 13-14)
This year the North Central Antique and Farm Association will host the 35th Annual Blackberry Threshing Show. This family friendly event allows you to step back into time to view threshing and farm machinery from the late 1800's to current day. There will be food, demonstrations, draft horse shows, model trains, vintage tractor displays, and live music. Learn more HERE.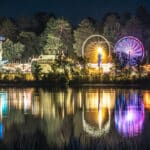 Itasca County Fair – Grand Rapids (August 17-21)
The Itasca County Fair is the annual agriculture celebration. It is a time where all of the Itasca Farms can showcase their harvest and livestock. Local 4-H students and local residents showcase their talents. There will be food trucks, carnival rides and games, live music, derby car race, animal judging shows, retail vendors, and so much more! Learn more HERE. 
Running the Rapids – Portage Park, Cohasset (August 27)
This annual half marathon and 5k are certified races. The course winds through scenic roadways and paths in Cohasset and Grand Rapids, Minnesota. Learn more and register at https://runningtherapids.com.
Bovey Farmers' Days – Bovey (Sept 3-5)
This annual Labor Day weekend celebration highlights the successful harvest of local farmers. This event is the longest running event known in Minnesota; with its start in 1912. This small town annual festival showcases food trucks, live music, street contests, harvest display, carnival style games and rides, retail vendors, downtown business specials, and a parade. Fun for the entire family! Learn more HERE. 
You will find more than 15 Summertime Events and Festivals in the Grand Rapids, MN area! To view all of the summertime events, check out Visit Grand Rapids website: www.visitgrandrapids.com/events-directory