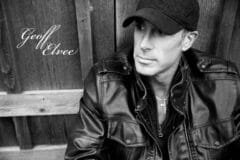 Geoff Elvee at Rapids Brewing Co
Friday, July 28, 2022
7-9pm
FREE
Hardships, hard work, and hero's have always been key subjects in country music but in the rugged working hands of Geoff Elvee these topics are eloquently transformed into first rate songs written or co-written by this established country musician. A Native Minnesotian he has been performing nationally as well as internationally for the last 20+ years and has released 3 albums. Elvee's third album " Crazy In The Heart" was released in August of 2019, and is currently working on a fourth. Having opened up for the likes of Cory Stevens, Transit Authority, and Hairball. Elvee has been able to intrege all genra's of music lovers to enjoy his shows. With music style ranging from traditional country/modern country/ classic rock / ameracana with his own twist, you can expect to hear music the way it was meant to be performed with heart, soul and personality, you will have a memorable experience of a genuine American singer/songwriter and also hear cover songs of his musical idols, influences and music hits past and present and stories behind the music. Elvee also has been involved with producing and performing veteran military appreciation charity concerts that have provided a venue for vets and their families to have a good time and to raise awareness to there causes.